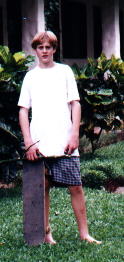 An open letter to Healdsburg and surrounding communities:
As many of you know, our son Carson Warner was killed one day after his fourteenth birthday on June 20, 1996 in an accident involving a 4-wheel all terrain vehicle. Carson was to spend about ten days with our very good veterinary school friends in Ferndale.
Carson will be remembered by his friends and family as a boy who cherished his friends.
Gregarious yet sensitive with a charming wit and a trademark wry smile, Carson was not afraid to state his opinion to adults when asked but did not seek confrontation. At his Memorial service on June 25 at our home, several peers said that he was someone who would keep shared secrets.
Carson was confident and sensitive with all animals. He loved his cats and family dog. He raised pigs for the fair and would make them respond to gentle touch. He rode horses with the Russian River Riders and in the Healdsburg parade. He was an accomplished falconer and spent many hours with his father in the practice of this sport.
Though Carson participated in many sports, his first love was skateboarding. He spent countless hours practicing his skills. He would set goals for himself and accomplish them. He loved to spend time with his friends discussing the finer points of his sport and enjoying their companionship.
Cookie and I and Garrett would like to express our deepest gratitude to the people of our great communities for their unwavering and astounding support of our family following Carson's death. Prayers, cards, letters, food, money, time, and love continue to be extended to us in our most difficult time. We would like to also thank our tremendous staff and all of the veterinarians of Sonoma County who kept our practice going in our absence.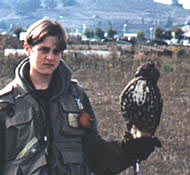 We choose not to call our son's death a tragedy. It is difficult to explain why our son was taken from us but we have to believe that there was a purpose.
We hope to see many positive things come from his death and have already seen the beginnings in our community.
The Carson Warner Memorial Skate Park is already in the making. This will be a place where young people like Carson can practice and legitimize their sport in an appropriate and safe atmosphere, a park that the community can be proud of that says "we care about our youth".
The planning and building of this park will help to heal our wounds and the wounds left on our friends and community by the loss of this fine young man....
Chick, Cookie (Pat Humphrey) & Garrett Warner.